Click picture to enlarge. Machaerus is the traditional site for John the Baptist's imprisonment and beheading. Many Jews were said to have disappeared there, never to be heard from again. The below map is as maps were in ancient Israel, facing toward the sun (with East being "up").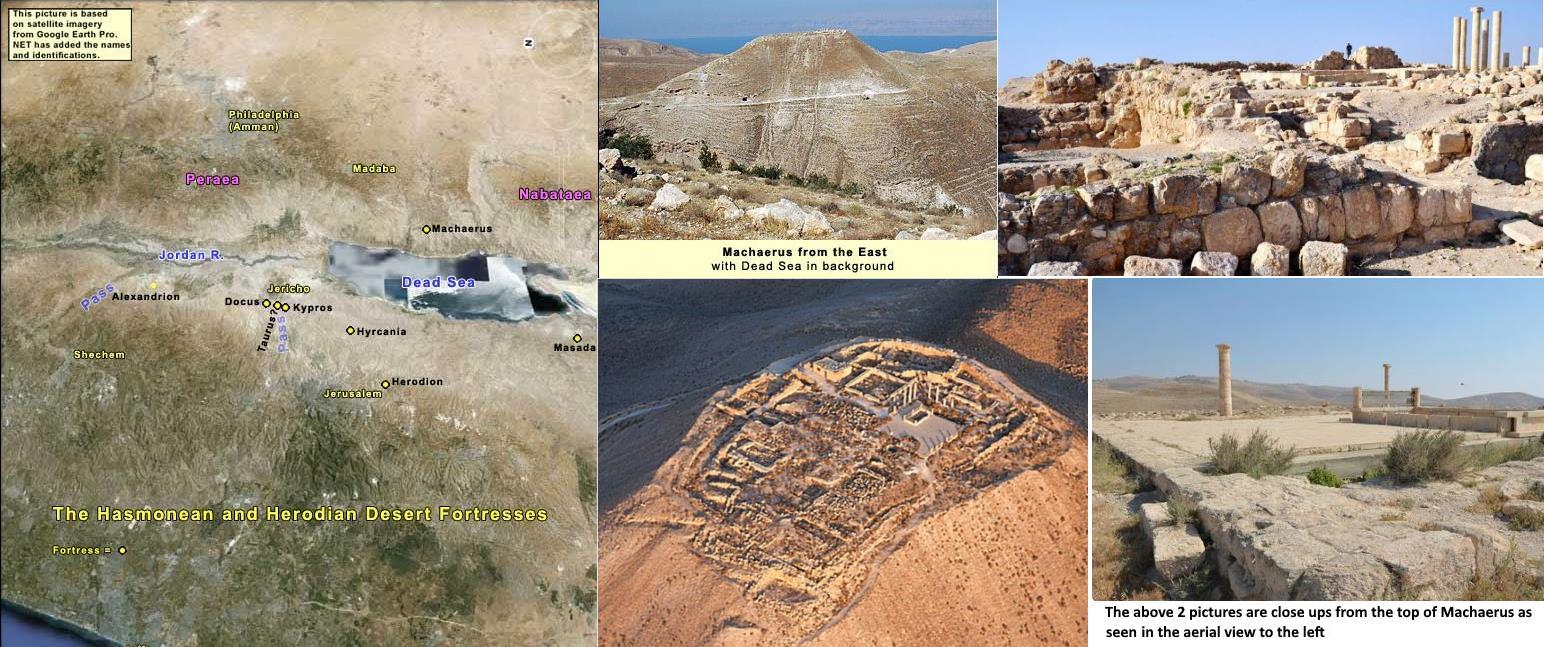 In last week's blog, I introduced that Essenes likely influenced John the Baptist. Today I'll analyse how and compare the disciples' expectations with John the Baptist's for their Messiah. This leads to the answer for what all of us should do in the face of discouragement and doubts.
6 IMPORTANT PARALLELS BETWEEN JOHN THE BAPTIST AND THE ESSENES
The important parallels between John the Baptist and the Essenes (or at least, the Qumran sect) are:
First, both John and the men of Qumran…appealed to Isaiah 40:3…retreating to the wilderness and engaging in…redemption and restoration of Israel (…Matthew 3:1-3; Mark 1:2-4; Luke 3:2-6; John 1:23)…. Both Essenes and Christians called their respective movements "the Way" because of Isaiah 40:3…. John's emphasis on Isaiah 40:3 likely paved the way for Christian adoption of this description.

Second, both John and the men of Qumran called for repentance and practiced baptism (…Matthew 3:5; Mark 1:4-5; Luke 3:7; John 1:25). Excavation of the ruins at Qumran has uncovered the presence of baptismal reservoirs, confirming the importance of ritual immersion for the Essene community.

Third, both John and the men of Qumran anticipated the soon-coming appearance of the kingdom of God, including an anointed figure or Messiah (…Matthew 3:2; Mark 1:7).

Fourth, John and the men of Qumran employed similarly the words "water, spirit, and fire" (…Isaiah 5:24; Matthew 3:11-12; Mark 1:8; Luke 3:16; John 1:26).

Fifth, John's strange diet may have reflected the strict food laws (kashruth) that were observed by the Essenes. Josephus says Essenes who were evicted from the community often starved to death because they are unwilling "to share the food of others," preferring to eat grass rather than violate their food laws… (see Matthew 3:4, 11:18; Mark 1:6; Luke 1:15).

Sixth, John harshly criticized Israel's religious leaders, calling them…a "brood of vipers" (Matthew 3:7-9). This confrontational approach coheres with the harsh epithets frequently found in the writings of Qumran. For example, the Essenes labeled their enemies as Man of Lies…Wicked Priest…Preacher of Lies…Men of the Pit…Men of Perversity…Sons of Darkness…Host of Belial.

From The Dead Sea Scrolls
WHAT JEWS EXPECTED OF THEIR MESSIAH
Now analyzing what the Jews expected in the first century,
Many Jews in Jesus' time expected Messiah just to be human despite the fact that the OT contains important hints about his divinity. Judging from the literature produced in the time between the Testaments, however, we know that some Jews expected Messiah to be much more than merely a human descendant of King David.

From The Dead Sea Scrolls
WHAT JOHN THE BAPTIST EXPECTED
Looking at what John the Baptist proclaimed about Jesus, we know what John desired compared to Christ's disciples.
[1] That Jesus would increase and John would decrease. Contrast this to Christ's disciples who argued over which should be greatest (John 3:30; Matthew 18:1-4, 20:20-23; Mark 9:33-36, 10:13-16; Luke 9:46-48, 22:24-27).
[2] That Jesus would be the lamb that would take away the sin of the world. Contrast this to Christ's disciples and others who wanted Jesus to have a kingdom and not be crucified (Matthew 16:21-23, Luke 17:20, 19:37-38; John 1:29, 36, 49, 6:15, 12:13).
WHY DID JOHN THE BAPTIST DOUBT JESUS?
So why was John the Baptist discouraged to the point of doubting when in prison? It seems for the same reason any of us get discouraged and start doubting: when we get our eyes off Jesus. But we also don't know how long John was in prison, or how difficult it was for him. Discomfort, pain, lacking nutrition, sleep deprivation, even torture, are all distinct possibilities. And it's equally uncertain how much he suffered from each of these. But he was certainly cut off from Jesus for a while, and perhaps communication with other loved ones. Then what cured his doubts? Having Jesus describe the miracles he (Christ) was performing.
Are you doubting with your eyes off Jesus?
The above pictures are scanned from fortresses map, aerial view, and excavation.