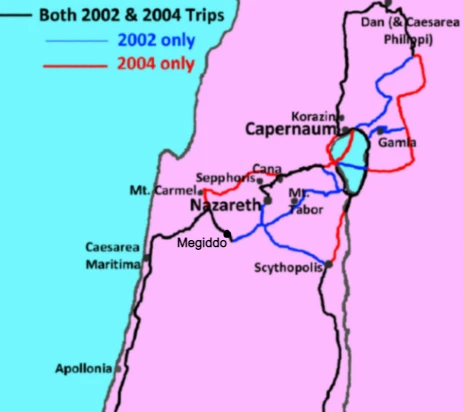 Most Israeli tours (with local tour guides and other guides) start at Caesarea Maritima, although there may first be a couple of other stops en route. Caesarea Maritima is en route from the Tel Aviv airport to Galilee. Here we got an introduction to archaeology science.
Why would broken statues here impress us? 
Why should we be impressed by a statue of a big foot?
How do clay pot shards help archaeologists? Why is archaeology a destructive science? What did archaeologists do in the past that was harmful to the science? What i
s a tell (or tel), and what does it look like?
I grouped my first and second tours together, flashing back and forth from the sunny day in 2002 to the overcast day of 2004. At times I have to blur a face and a voice because I wasn't able, after being in Israel, to locate and ask for permission to include individuals in my video footage.
What stories are in the Bible and Josephus that we can envision at Caesarea Maritima? What evidences do we find of Rome's extravagant lifestyles and even their implied cruelties to the Jews? What was their sewage system like? Can we make sense of what archaeologists found here? Can we envision distances from a high point and a map?
How did archaeologists dig tells (tels) in the past that was so harmful to dating eras accurately? What can we learn from looking at a model of a tel and then at a real tel? What other ways is archaeology a destructive science?
What was different with the walls of Solomon's time compared to the walls before his time? What was done to walled cities to keep up with how warfare evolved over the centuries? How do you tell what was restored by archaeologists? And understand what they did cutting through different eras of time?
Why do "gates have heads" in Psalms 24:7?
What was significant about the stairs dating back to Solomon's time? What can we now understand about the "daughters of Jerusalem," living with walled cities, and what to expect during a siege in wartime?
How did they keep their water safe from the enemy before a siege? Why was this valley called the Valley of the Armageddon?
Changes for my website
My 2 students have been stuck on the Contact Us webpage to try to make it work. 1 of them will be consulting with the instructor of the college. We hope to get this fixed soon.
– View previous posts –
Categories
My Focus in Blogging
My story of forgiveness and healing is quite unrelated to envisioning the Bible world. But since our world is sin and pain infested, I suspect many will want to hear more about my personal experience. I wrote a couple of blogs about this, but mostly I focused on envisioning the Bible world. I learned lots after being in Israel, and now I can share that with you.
Plans for Improved Website:
Now that my documentary links are all moved under the Tour Israel menu heading, I'll see if I can get my website working better for the visually impaired. This requires a lot of work and my student may be too busy with other technical fixes. I'll see what I can get done by the end of May, 2023.
Thanks for your interest.
Heather, May 2023