Click below to enlarge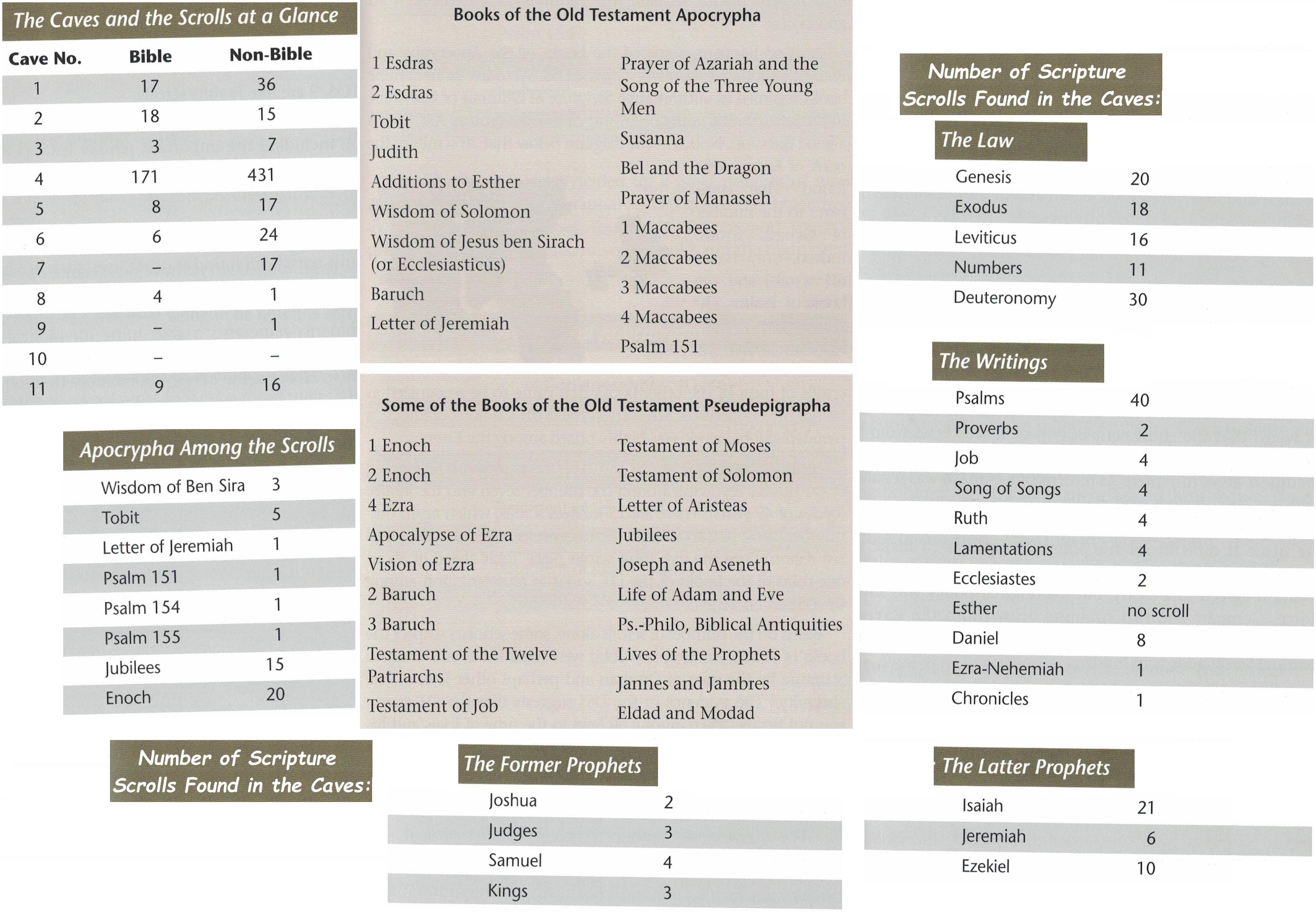 There is so much to the Dead Sea Scrolls (DSS) I need to do another 3-part series. This will combine more summary of the DSS with context for a few Biblical texts. Today I want to touch on the difference between self-righteous anger and righteous anger. That is, comparing anger in the Bible with anger in the Apocrypha and Pseudepigrapha of the DSS.
APOCRYPHA AND PSEUDEPIGRAPHA
Apocrypha is basically ancient writings that have unknown authorship and are related to but not included in the Old Testament. The Catholic church claims some of the Apocrypha books are inspired (between the Old and New Testaments). Protestants don't accept this for good but complicated reasons.
Pseudepigrapha
is a much broader collection of extrabiblical literature. "Pseudepigrapha" refers technically to texts with a false attribution of authorship, though the collection has come to include several anonymous texts as well. The scope…included in the collection varies from edition to edition. Generally, the collection contains at a minimum pseudonymous Jewish extrabiblical writings from about 200 BCE to 200 CE.

From Oxford Bibliographies
THE DSS AND JUDE
Jude, another of Jesus' brothers, authored one of the smallest writings in the NT. He warns readers to avoid the moral and doctrinal errors of "ungodly" people who pervert the gospel (Jude 4). To make his case he appeals to many OT traditions, including some of those found in apocryphal and pseudepigrapha works like the book of Enoch and the Testament of Moses. These works are quoted and alluded to in the following passages:

Yet Michael the archangel, when he was disputing with the Devil in a debate about Moses' body, did not dare bring an abusive condemnation against him, but said, "The Lord rebuke you!" (Jude 9) And Enoch, in the seventh generation from Adam, prophesied about them: "Look! The Lord comes with thousands of His holy ones to execute judgment on all, and to convict them of all their ungodly deeds that they have done in an ungodly way, and of all the harsh things ungodly sinners have said against Him." (Jude 14-15) Verse 9 paraphrases and quotes an incident described in a non-biblical work, only part of which has survived…the part Jude quotes relates to Moses' death (Deuteronomy 34:5-8). In the century or so before the time of Jesus, speculation arose concerning the death and burial of Moses. A tradition arose that he ascended to heaven. Some even speculated that the devil tried to prevent Moses from entering Paradise, accusing him of murder in the death of the Egyptians caused by plague and drowning in the Red Sea. The Bible, of course, says nothing about Moses ascending to heaven or being confronted by the devil. In Jude 14-15 we have an allusion to an incident related in the book of Enoch and a near-verbatim quotation of Enoch 1:9. The passage…quoted attributes to Enoch a prophecy of coming judgment on the wicked. Interpreters of the NT long wondered why Jude would make use of writings that did not gain entry into the canon of Scripture. Strictly speaking this question is anachronistic since the OT canon was not universally settled until after Jude was written, but in any event, the DSS have shown us that apocryphal and pseudepigraphical writings were widely circulated and read in the NT era. Recall that 20 Enoch scrolls were found at Qumran as well as a host of Testaments and Apocalypses similar to the Ascension of Moses….

From The Dead Sea Scrolls
HOLY AND SINFUL ANGER
The common element implied in both the above quotations has anger involved. Both quotations by Jude display what I would call "holy" anger. This is in contrast to most of what's found in the Apocrypha and Pseudepigrapha.
Ephesians 4:26 says, "Be angry, and do not sin; do not let the sun go down on your anger." What does this mean besides your anger should not turn into bitterness? One thing is for sure: there's no real maturity in our walk with Christ until we avoid anger that turns bitter. I like what this article says about anger. But I don't like what some of the DSS Apocrypha and Pseudepigrapha display about "holy" anger. It's self-righteous anger instead of true righteous anger.
Perhaps I should also mention here the extreme heresy of the "Infancy Gospel of Thomas." This portrays Jesus growing up much like in Greek myths, humans that were also supposedly "gods." This ancient writing tells of Jesus killing other children out of vengeful whims. But this ancient writing wasn't among the Apocrypha found in the DSS. I mention it because some people may call it "Apocrypha" and yet it's an extreme example of sinful anger.
Are you working on controlling your anger?
The above "picture" today shows not all the DSS was the Old Testament, but not all DSS was Apocrypha or Pseudepigrapha either. All these lists were scanned from
The Dead Sea Scrolls
.