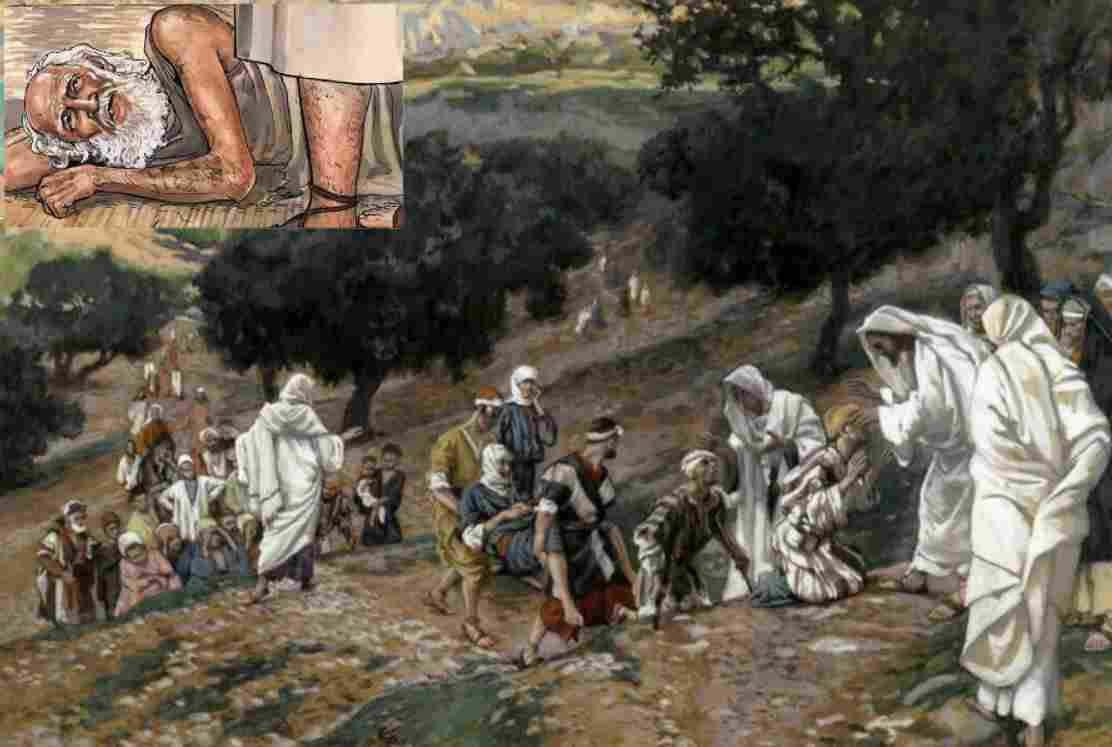 How did ancient Jewish beliefs affect the blind, lame and maimed? What did Jesus teach in contrast? How did Christ use shock value in one of his parables? I covered Luke 14:15-24 back in October 2018. I mentioned Jesus used shock value but I didn't explain why it was shocking in ancient times. Now, after covering numerous subjects on the Dead Sea Scrolls (DSS), I can.
COMMON BELIEFS ABOUT THE BLIND, LAME AND MAIMED
In Jewish late antiquity, the healthy and wealthy were viewed as blessed of God, whose election was assured. The election of the poor and sick, on the other hand, was very much in doubt, a sentiment perhaps inspired by Leviticus 21:17… [see 17-23]….
These strict rules applied to the priests and animals offered for sacrifice…treat God as holy, offering him sacrifices free of blemishes…. The men of Qumran took these requirements very seriously. They also applied them to the anticipated final war between the Sons of Light and the Sons of Darkness. This conflict was seen as a spiritual battle more than a physical battle. Indeed, fighting in this battle amounted to an act of worship. Therefore, all participants were to be dressed in white and to be free of physical defects and impurities, as stated in the War Scroll:
"No one maimed, blind or lame, nor a man who has a permanent blemish on his skin, or a man affected with ritual uncleanness of his flesh; none of these shall go with them to battle. All…shall be…pure of spirit and flesh, and prepared for the day of vengeance…for holy angels are present with their army (1QM 7:4-6)…."
But what has the great holy war at the end of time to do with the banquet of Jesus' parable? The War Scroll tells us that after the eschatological war, the banquet of celebration takes place. It will be then that the Messiah reclines at table with the righteous of Israel. According to the men of Qumran, however, those with defects and impurities cannot recline at this table. According to the Rule of the Congregation Scroll:
"No man with a physical handicap—maimed in both legs or hands, lame, blind, deaf, dumb or possessed of a visible blemish in his flesh—or a doddering old man unable to do his share in the congregation—may enter in the congregation of the men of reputation. For the holy angels are a part of their congregation" (1QSa 2:5-9).

From The Dead Sea Scrolls
UNDERSTANDING THEM AND OURSELVES
I've mentioned before, we read into everything what we're familiar with. When the disciples asked Jesus, "Who sinned, this man or his parents, that he was born blind?" (John 9:2), it shows how common these beliefs were. And when Jesus first told the man that was lowered through the roof, "Your sins are forgiven you" (Luke 5:17-26), Jesus likely saw how much this man first needed to be encouraged. In fact, you likely always read that passage like I did, thinking the owner of the house must've given permission to tear up his roof. Or that it's easier to get forgiveness than permission! But after preparing for my blog on May 27, 2019, I've since realized Jesus must've given this permission himself, to tear the hole in his own roof. Teaching by example how much more important people are than the things we value and the work that goes into our things.
If we follow Christ's example, we'll learn how much God cares about all those who suffer. If we don't, we'll doubt God even cares, or that he'll hold us accountable.
THE SHOCK VALUE AND ITS IMPLICATIONS
Getting back to Christ's parable of the great banquet in Luke 14:15-24 and what I wrote in my former blog. You'll see the contrast with their former beliefs and what Jesus taught. James 1:22-25, Isaiah 55:6-11 and even Romans 9:6-8, 13-26 sum up the implications. You can't learn about God and not act on what you learn, or your heart will harden. Then God will be glorified when he reigns mercy on some and judgment on others.
What will you receive?
The above pictures were scanned from healing blind, lame and maimed and what will you do?