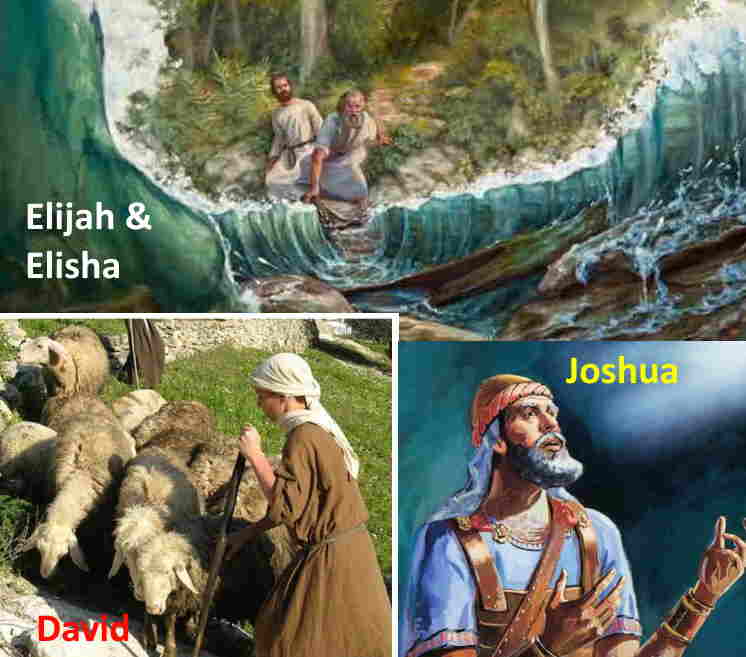 How is false humility misleading and harmful? How does being ensnared by it limit your potential? What would compel you to be extremely on guard against it?
In the Dead Sea Scrolls (DSS):
JOSHUA PROPHESYING
People put others on pedestals if they have supernatural knowledge and/or the ability to work miracles because the recipient of these gifts must somehow be more spiritual and have a direct link to God. Or so they think (I think of Samson and Balaam).
The men of Qumran also took interest in Joshua…. According to a work called the Psalms of Joshua, Joshua prophesies the coming of…the…son of Belial (Satan), who will lead Israel astray….

Guide to the Dead Sea Scrolls
If you're wise, you'll seriously keep in mind Matthew 24:24, Jeremiah 17:9 and James 1:22-25. Being deceived is easy unless we're aggressive about learning and living what's in the Bible.
DAVID'S ACCOMPLISHMENTS, POWERS, AND EXCUSED SIN
Perhaps you still don't even believe there's a direct connection between people on pedestals and false humility.
The War Scroll alludes to David's greatest personal military triumph, his defeat of Goliath…. David composed "4 songs for charming the demon-possessed with music…." That Israel's king was also an exorcist is seen in the legends…. The men of Qumran were forgiving toward David's sins…the Damascus Document: "Concerning the leader it is written 'he shall not multiply wives to himself' (Deuternomy 17:17); but David had not read the sealed book of the Law in the Ark…. Nevertheless, the deeds of David were all excellent, except the murder of Uriah, and God forgave him for that."

Guide to the Dead Sea Scrolls
People put others on pedestals when they hope someone will put them on one. They excuse others' sins when they want to believe their own sins will be excused, too.
Have you ever been humiliated? Wasn't it because you wanted to be on a pedestal, and you were knocked off? And what is false humility? Isn't that hiding your desire to stay on a pedestal? Or putting others on a pedestal, isn't that a refusal to give God the glory for what He's doing in their lives? And what about what he's done in our own lives?
ELIJAH AND ELISHA CONFRONTING SIN
They were famous for confronting the stray leaders of Israel and Syria, and for working wonders.

Guide to the Dead Sea Scrolls
Since we're all so different, it's easy to think of another person's sins as more serious than our own. But how can we "remove the log out of our own eye" before confronting another's sin if we won't repent of our own sinful, proud thoughts?
DANIEL AS AN INTERPRETER OF DREAMS
Remember when Belteshazzar asked Daniel if he could interpret dreams, Daniel quickly said only God can reveal secrets to men? Yet the Qumran men put Daniel on a pedestal.
Daniel apparently had a special fascination for the men of Qumran. Not only were 8 Daniel scrolls found, several other writings were found that relate to the Daniel tradition. Among these are a scroll called the Prayer of Nabonidus (4Q242), which parallels the confession and prayer of Nebuchadnezzar (Daniel 4:34-37).
There are fragmentary copies of 3 scrolls that scholars have dubbed Pseudo-Daniel (4Q243-245), another scroll that is an apocalypse involving the interpretation of a dream (4Q246)…. All of these scrolls are in Aramaic….

Guide to the Dead Sea Scrolls
All sin, including pride, is satisfying for a short while. But all sin, like pride, deceives and then ensnares you. It leads to more self-deception, blaming others, and then more sin.
FREEING YOU FROM A STRANGLE-HOLD
If you give the devil an inch, he'll steal a mile. Yet if you confess every pride-filled thought as sin, it's so freeing. You won't be defensive anymore, obsessed with what people think of you, or resent criticism anymore. Instead, you'll take it objectively, evaluate, learn and grow.
When I was a kid and felt wretched, I was hurting and wanted to show the world. I also wanted to be a writer of books and felt that would make up for all the pain I was experiencing. But I was scared God wouldn't let me get published because he wanted all the honor and glory. I knew he knew my motives were wrong. But I couldn't help myself. It was my only solace that could make up for all my pain. So, I prayed "God, I'm willing to be willing to give you all the glory, but I need you to make me willing." I'm thankful he definitely answered my prayer.
FACING GOD SOMEDAY
Good-looking guys and girls will feel wretched facing God just for their thoughts if they don't give God the glory for how he made them. If you don't feel you're part of this "privileged" category, who are you to question God? And anyway, shouldn't all of us as Christians boast only in the Lord (1 Corinthians 1:31; Galatians 6:14)? In fact, proud Christians will see their works burned up (cp. I Corinthians 3:15).
When we face God we will cast our crowns at his feet (Romans 15:18; Revelation 4:9-11). But will we experience shame or joy when we do so?
Above pictures scanned from Elijah and Elisha, David as a shepherd boy, and Joshua