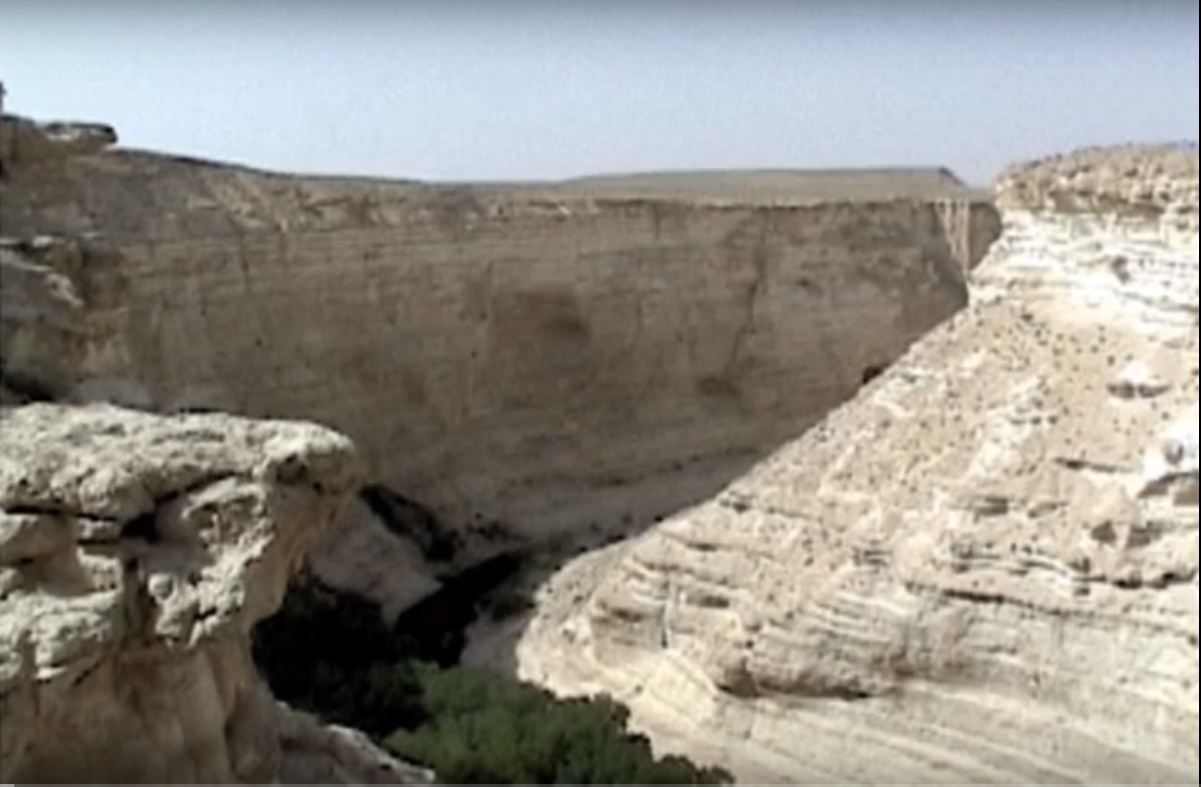 A huge, deep wadi in the Israel desert
A wadi is a dry river bed with water only during the rainy season. It can also be hazardous in the winter, in the deserts of Israel. Most of the winter can be dry and often even sunny, which is deceptive. Their rains can come in such unpredictable torrents, flash floods can catch people off guard, wiping out roads and bridges. Hikers prefer hiking in valleys because it's tiring climbing hills, but being caught off guard can be fatal.
Masada has a lot of historical significance for Israel, and part of the reason it's so high is the fault and earthquakes that take place in the area. (Geologically speaking, Masada is also a horst.) But for this blog, it also serves as a perfect illustration of what desert rains and flash flooding can do. The torrents erode loose sand and rocks, carrying them down to the Dead Sea. What remains is solid rock. As in the above picture, and also as with Masada itself, the torrents can create such dramatically high cliffs.
Keeping in mind the harsh extremes of the Israeli desert, we gain significance for various scriptural passages. The "still waters" in Psalm 23:2 don't seem important until you envision yourself where water can kill you. Your dependency on the Good Shepherd becomes not just much more real, but scary.
Thinking of the Israelites wandering in the wilderness for 40 years is also of far more significance. How did they get enough water for so many? The times God provided water for them miraculously are recorded, but surely these times didn't provide all the water they needed for that whole time they were out there. Look at the above picture. The Israelites certainly would've come to this "oasis" for water, too. But did they approach it from the bottom or the top? Were they at risk of flash floods in the bottom, and if so, how did they get out of the way?
Yet the flash floods make me think most of the wise and foolish men in Matthew 7:24-27 and Luke 6:46-49. In Luke's account:
Why do you call me "Lord, Lord," and not do what I tell you? Everyone who comes to me and hears my words and does them, I will show you what he is like: he is like a man building a house, who dug deep and laid the foundation on the rock. And when a flood arose, the stream broke against that house and could not shake it, because it had been well built. But the one who hears and does not do them is like a man who built a house on the ground without a foundation. When the stream broke against it, immediately it fell, and the ruin of that house was great.
Why would anyone build their house in a desert wadi? Like I said, it's usually sunny, so it's deceptive. It's also easier walking in the valleys, and Bible-time travel routes were mainly in the valleys. But most of all, water sources would be closer and much easier to obtain. Without running water, naturally the closer, the better.
Is your house built in a desert wadi?
I took the above picture in 2002.