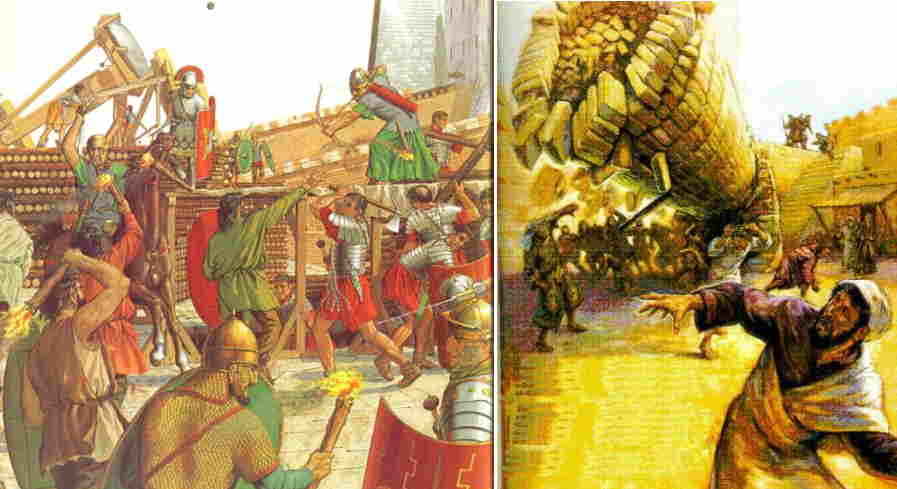 Luke 13:1-5 raises and answers questions. Where, when and why did that happen? The answers: What God wants us to remember when suffering. This blog will analyze and challenge our beliefs.
JOSEPHUS AND KNOWN FACTS
Josephus records a number of massacres during this period (Antiquities 7:45-62; 18:60-62; 20:113-17), but not this one…. Civil and national violence spawns incredible rumors…. The present writer has recently completed 18 months of agonizing with the Lebanese people in their civil war of 1975-76. The war was sparked by a massacre of 28 in a bus on the outskirts of Beirut. From that time on, endless stories of massacres (some fact and some fiction) were rampant…. Such stories serve a function…emotionally stirred to…rage that can motivate them to heroism in retaliation. But woe be to the listener who dares ask, "Have you checked your sources?"
The brief report in the text has all the characteristics of such a violence-inspired rumor. Pilate's soldiers could have been so insensitive to Jewish religious practices…. But such an incident would hardly have escaped Josephus, who was not slow to criticize Pilate.

From Poet & Peasant and Through Peasant Eyes
SUFFERING CAUSED BY WHOM?
We have such a tendency to differentiate between the suffering others cause us or the suffering only God can cause. But when the
informants in effect ask, "What about the suffering of these national heros struck down by our enemy?" Jesus answers, "What about the suffering of those whom God strikes down in the falling of a tower?" (There is no category of fate or chance in biblical literature. The biblical understanding of the sovereignty of God precludes it.) Thus Jesus refuses to discuss the suffering of the politically oppressed without broadening the discussion to include other types of sufferers.

From Poet & Peasant and Through Peasant Eyes
BEHIND POLITICAL SUFFERING
Those who suffer political oppression often quickly assume that their suffering is the only kind that matters, and a crass indifference may then develop to the suffering of others around them, particularly if it is of a nonpolitical nature. The incisive thrust of Jesus' response does not allow for such a narrowing of the discussion, irrespective of the grim nature of the political oppression presented…. The more intense the struggle for justice, the more the oppressed tend to assume their own righteousness…refuses any criticism….

From Poet & Peasant and Through Peasant Eyes
The War Scroll found among the Dead Sea Scrolls was likely revered by many more than just the Essenes. Remember my blog about the Apostle Paul and the Dead Sea Scrolls (DSS)? The Jews at large had much in common with the DSS, namely the doctrines, themes, and language. This scroll describes a "holy war" that would take place someday, and how they were to prepare for this battle.
MIRACLES VERSUS TRUTH
We fail to picture just how popular Christ was because of his miracles. But we also don't get just how unpopular Jesus became because he wouldn't side with the Jews against the Romans. Because of the Romans' corrupt "justice" system, when Jesus said we must all repent or likewise perish, we see Christ's courage. It helps us understand "part of the reason…he was rejected by his community." It also gives "profound insight into a part of his response to the oppressed struggling for justice" (Poet & Peasant and Through Peasant Eyes).
RICH VERSUS POOR
When Jeremiah opposed the political climate of his day he was protected by influential friends and his life was spared (Jeremiah 26:24). So far as we know, Jesus did not have powerful friends who could or would protect him. Nicodemus' one feeble attempt illustrates the point (John 7:50-52). In studying Luke 13:1-5 with Middle Eastern classes, the present writer has often had students marvel that Jesus was not physically attacked on the spot.

From Poet & Peasant and Through Peasant Eyes
WHY WE SUFFER
We can suffer for doing wrong (1 Peter 2:20) or right (Psalm 34:19; Matthew 5:10-12; Luke 14:27; Philippians 3:10; 2 Timothy 3:12; 1 Peter 2:19-21; 4:1, 12-13; 3:14; 5:10). Sufferings can be for our eternal glory and crown (Romans 8:18; 2 Corinthians 4:17; James 1:12; 1 Peter 1:6-7). They can be for the sake of the church (2 Corinthians 1:3-4; Galatians 6:2; Colossians 1:24), or to reveal Christ (2 Corinthians 4:8-10). It can be for revealing God's power (John 9:1-3). Through suffering we learn our lessons better (Psalm 119:71), we learn perseverance, character, hope, and steadfastness (Romans 5:3-4; James 1:2-4). Or as in Job, sometimes we may never know the real reasons we suffer. But who are we to question God? If he chooses to bless us or send us misery, shall we take the one for granted and question him about the other?
It only makes the pain worse when we question or doubt God. Bitterness doesn't ease the pain, and sometimes doesn't even numb it enough. Although this won't ease your pain, it's the truth. And the truth is always better than lies, no matter how bad pain is.
Believing God knows what's best, and waiting on him for healing and deliverance, this is the best comfort anyone can offer. Also, focusing on others who are worse off sometimes helps. At least, it helps more than focusing on others who have what we want.
The above pictures were scanned from tower falling and Romans fighting Jews.