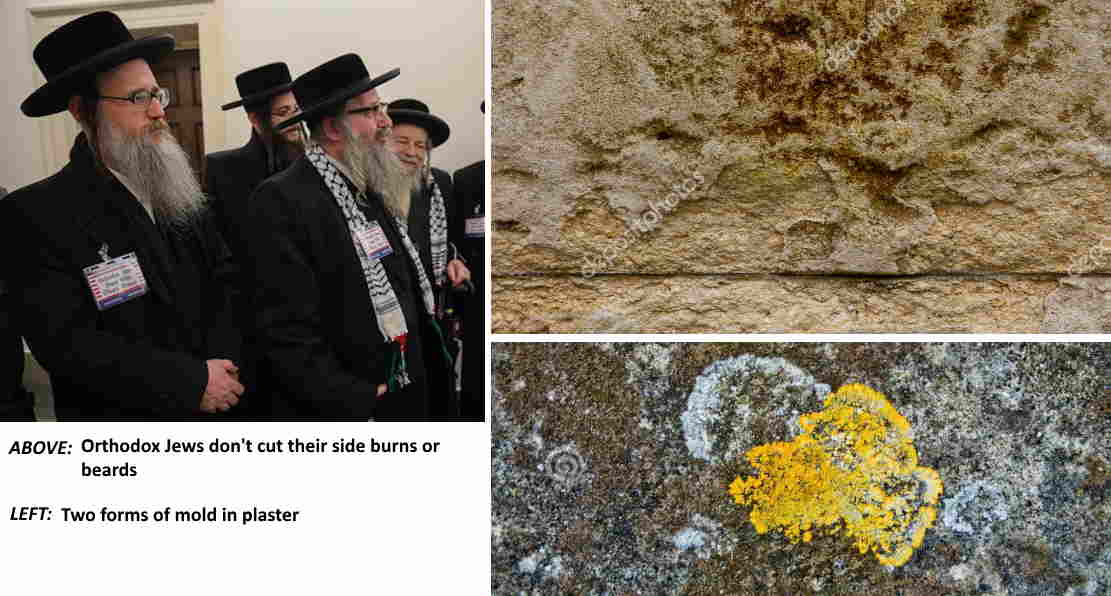 Consider a modern parallel to envision the context of Leviticus. Its original audience was like a nation of escaped convicts. Freedom. And shortly afterward, rules, rules, and more rules from God. Plus disobedience frequently meant immediate death (Leviticus 10:1-2; Numbers 11:1-2; 11:4-34; 14:36-38; 16:27-32, 35, 49; 21:4-9; 25:9). Then Leviticus came, with all the rules written down.
WHY BALDNESS OR NO CUTTING OF BEARDS AND SIDEBURNS
After being cleansed from a skin disease, Leviticus 14:8-9 directs the ancient Jew to shave off all his hair along with washing and living outside the camp for seven days. This is opposite of what's normally required of them. Putting this into its ancient context,
According to Levitcus 19:27, the Hebrews are not to cut the hair on the sides of their heads or their beards. The prohibition…is a polemic against pagan mourning rites…that involve cutting of the body. One is not to cut hair on the sides of one's head, or to mar one's beard—these are Canaanite practices (see Deuteronomy 14:1)…. Porter reports that in pagan societies of the ancient Near East worshippers bore marks on their bodies as a sign of being devotees of a particular deity.

From Leviticus, An EP Study Commentary
This means what was required of Jews, when cleansed of skin disease, is very exceptional.
WHY SEVEN OR EIGHT
It's on the eighth day (Leviticus 14:10-11) the patient appears before the door of the tabernacle with various offerings. But in Leviticus 14:15-18 the priest sprinkles oil seven times before God. The eighth day
is one of consecration in Israel: the priesthood is set apart on the eighth day…circumcision takes place…the most important day of the Feast of Booths…marks the climax of purification rites…the patient is restored to full fellowship…. Both the number "seven" and the "oil" itself are symbols of wholeness and union. The priest…puts the oil on the right-hand-side extremities…pours the last of it on the man's head. The latter is a sign of full acceptance….

From Leviticus, An EP Study Commentary
DISCHARGES, IMPURITY
Skipping ahead to Leviticus 15, this displays a precise symmetry.
A Long-term male discharges (15:2-15)
B Short-term male discharges (15:16-17)
C male and female together (15:18)
B short-term female discharges (15:19-24)
A long-term female discharges (15:25-30)

From Leviticus, An EP Study Commentary
Skipping down to verse 18, although sex was and always is pure within marriage,
The act of sexual intercourse may be impure as a polemic against ancient Near-Eastern cultic activity…temple prostitution was rampant. Male and female prostitutes were attached to central sanctuaries and shrines. The Canaanites, for example, "thought that acts of whoredom at the sacred precincts would guarantee the fertility of their people, land, and animals.

From Leviticus, An EP Study Commentary
FUNGUS IN HOUSES
Backing up to fungus in Leviticus 14:33-35,
Invariably, walls in antiquity were plastered. Often this was accomplished by using mud plaster with a good amount of sand mixed in. Lime plaster was also used. Plastering has an aesthetic appeal, although…it was primarily…to guard the walls from damage…caused by inclement weather…. If the actions of verses 40-42 work, the priest will examine the house and pronounce it clean. A rite of purification…involving the two birds…the cleansing rite for a person with a skin disease (see 14:3-7). The major difference is that no sacrifices are necessary for the purification of a house…

From Leviticus, An EP Study Commentary
GOD'S CONTROL
Sometimes fungus can be harmful to one's health. But not always. Like the different food prohibitions and skin diseases, there's a chance God was looking out for the physical well-being of the Jews with many of these rules. But since these rules were abolished in the New Testament, physical health cannot be God's primary reason for making them. Nor can we make hard and fast conclusions over why God would "inflict houses with such things as fungus" (see verses 33-35). This "is probably a general statement of providence, that God is the source of all that happens (see Isaiah 45:7)…. If the fungus has spread, then that area of the house must be rebuilt…."
Last week I mentioned our tendency to assume the suffering inflicted by humans is solely in the control of humans. It's a big subject—too big to cover adequately here—regarding the will of man versus God's sovereignty. But I find suffering so much easier to take when I know it's God that's in control and allowing it. Because God is love, and only allows what's for the best. This doesn't change the truth, just because I find it easier to take. But it might change whether you're willing to investigate it (if you don't already agree). If so, check out Romans 9 and this blog.
THE VALUE OF THE LEVITICUS RULES
God allowed the Israelites to suffer so much and so long that when they were freed, his rules would at first seem better. But the more rules God gave, the more the Israelites would've felt God expects too much. And indeed God does expect too much considering who we are, and what we're like.
We like to make rules that would make us feel better about ourselves when compared to the next guy. We even tend to invent a "god" in our minds that would go along with our own rules. Praise God Leviticus addresses our need for a Saviour!
The above pictures were scanned from orthodox Jews, fungus in plaster-1 and fungus in plaster-2