Click picture to enlarge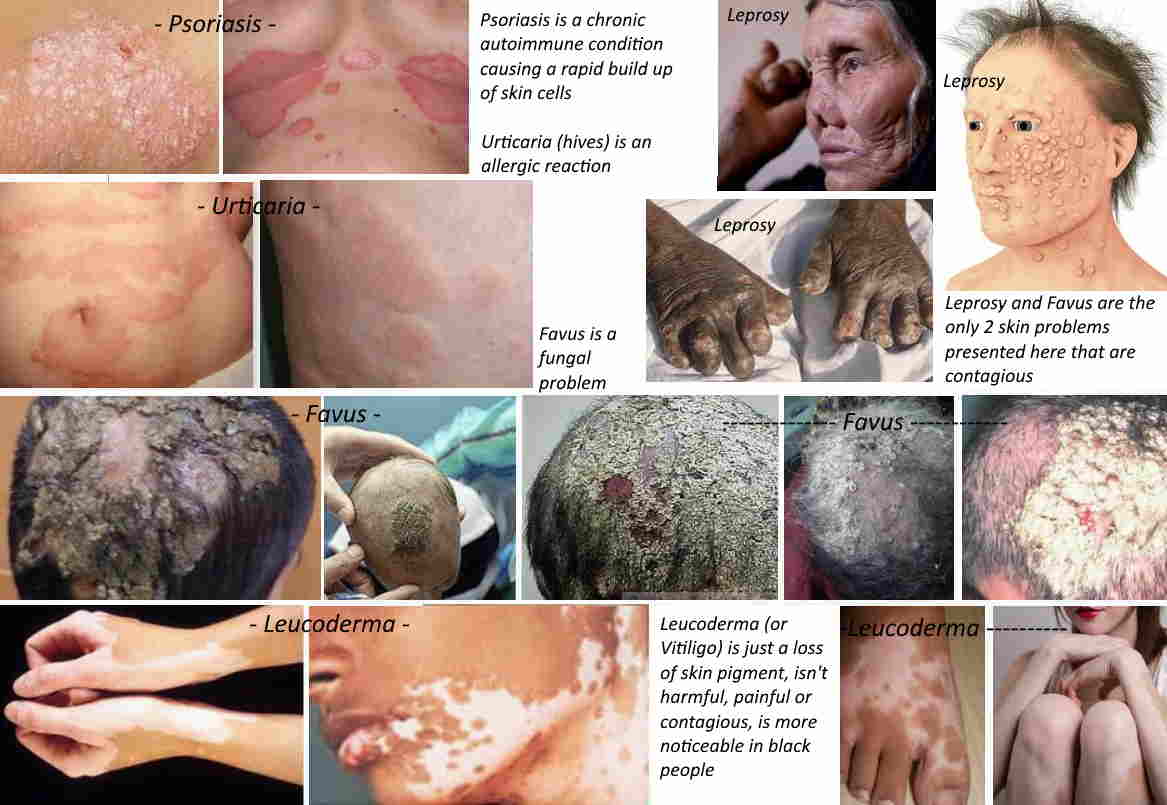 Why are skin diseases and mold significant to us in Leviticus 13? What else makes us really spiritual besides recognizing our neediness? How can Leviticus 13 and what makes us spiritual resonate with us?
SKIN DISEASES IDENTIFIED
In Leviticus 13:1-3,
Three skin conditions are identified. The first is a "swelling" on the skin…from the verb "to lift up" and, therefore, it probably refers to some type of skin growth or eruption. The second term has been rendered "rash," although it can just as easily be translated a "scab"…. The final condition denotes skin that has a "bright spot" on it—its cognate verb means "to shine, be bright." Any of these…may be a sign of "an infection of a skin disease…." The next term, "skin disease", is often translated as "leprosy", so the Septuagint uses the word lepra. Many scholars today agree that "leprosy" is not a good translation here because the Hebrew term includes various kinds of skin diseases. It may include leprosy ("Hansen's disease") but also many other diseases besides leprosy.
The truth is that leprosy was unknown in the ancient Near East during the time of the Exodus and the giving of the law. Clear references to it do not occur until the late first millennium B.C. So what we have in Leviticus 13 is a term that is generic: it describes features common to a variety of skin diseases. These could include…psoriasis, urticaria, favus, or leucoderma….
A person who has a swelling, a rash, or a bright spot…must go to the priest for examination…. There are two parts to the test…first, if the hair on the sore has turned white, and second, if the sore has done damage to deeper layers of skin.

From Leviticus, An EP Study Commentary
UNCLEAN CRITERION FOR DIFFERENT SKIN DISEASES
Sores on a person's skin that take the form of raw flesh—that is…oozing, red and active—are indications of a chronic, severe skin disease. This person has not been healed and, therefore, he is to be declared ritually unclean and impure.

From Leviticus, An EP Study Commentary
Leviticus 13:18-46 covers
secondary conditions developing into skin infections…first, boils (13:18-23); secondly, burns (13:24-28); thirdly, scabs on the head or chin (13:29-37); fourthly, bright spots on the body (13:38-39), and fifthly, bald areas (13:40-41)….
This…case…a "boil" which has healed…appears to be generic in its usage, although it is specifically used…in Egypt…. Some authors contend that it refers to anthrax…highly infectious…. Others argue that the illness is smallpox. Whatever it is…complications now set in. Either a white swelling or a "reddish-white" spot appears in place of the boil…. "Reddish" adds the idea that the area is still infected…seething…. If it has a deep infection and white hair, then it is a serious skin disease.

From Leviticus, An EP Study Commentary
UNCLEAN MOLD
Mold in clothing is covered in Leviticus 13:47-59. Verses 47-49 refer to the "warp" and "woof."
The reference to "warp" and "woof" is probably a merism indicating that any part of the clothing that is infected needs to be examined by a priest. The "warp" refers to the lengthwise treads when the fabric is on a loom, and the "woof" to the cross-threads woven through the former…. Once it has been deemed unclean, the article must be burned…if the article touches a human then the person will obviously become unclean as well.

From Leviticus, An EP Study Commentary
BEING DECLARED UNCLEAN
…the treatment of one…declared to be unclean is…to tear his clothes, go about with an unadorned head, and have his beard and mouth covered. These are all signs of mourning in the Old Testament (see Ezekiel 24:17, 22; Micah 3:7). They are symbols that this person is, in a sense, ritually dead. He is to have no access to the tabernacle or to the covenant community…to cry out loudly, "Unclean! Unclean", thus warning others who might approach him.

From Leviticus, An EP Study Commentary
THE SECOND "INGREDIENT" OF REAL SPIRITUALITY
If you're an astute student of the Bible, you may have already figured out the main "ingredient" of true spirituality is love (1 Corinthians 13). But when I was at New Tribes Boot Camp (see last week's blog), I had pointed out to me the word "graciousness" which seemed much more effective in guiding me. I never put my finger on exactly why until this past week, though, when I was preparing to write this blog.
Here's a quotation from a blog that I highly recommend you read in its entirety:
Grace, for me, brings love into the story of the Gospel while properly accounting for justice. God is equal parts love and justice, which is why sin so separates us from him…. Without the proper understanding of grace, John 3:16 holds no real meaning…. Or, it holds a weakened meaning…. Love…left undefined…is one of those slippery words…. But grace…takes the powerful nature of love to the next level. Grace is the width…depth, and breadth of love reaching out…fuels my love for him, and…service…. Grace is the way to introduce God to the world….

From Changing the Face of Christianity
CONCLUSION
Reading about skin diseases and mold in Leviticus reminds us of how much more we have with today's modern medicine. Imagining what the priests had to decide, based on Leviticus, reminds us how harsh the law seems. Grasping how gracious God is toward us reminds us how much we owe graciousness towards each other for God's sake. This, together with an acute sense of our neediness, makes us truly spiritual.
The above pictures are scanned from psoriasis, urticaria (or hives), leprosy, favus, and leucoderma.