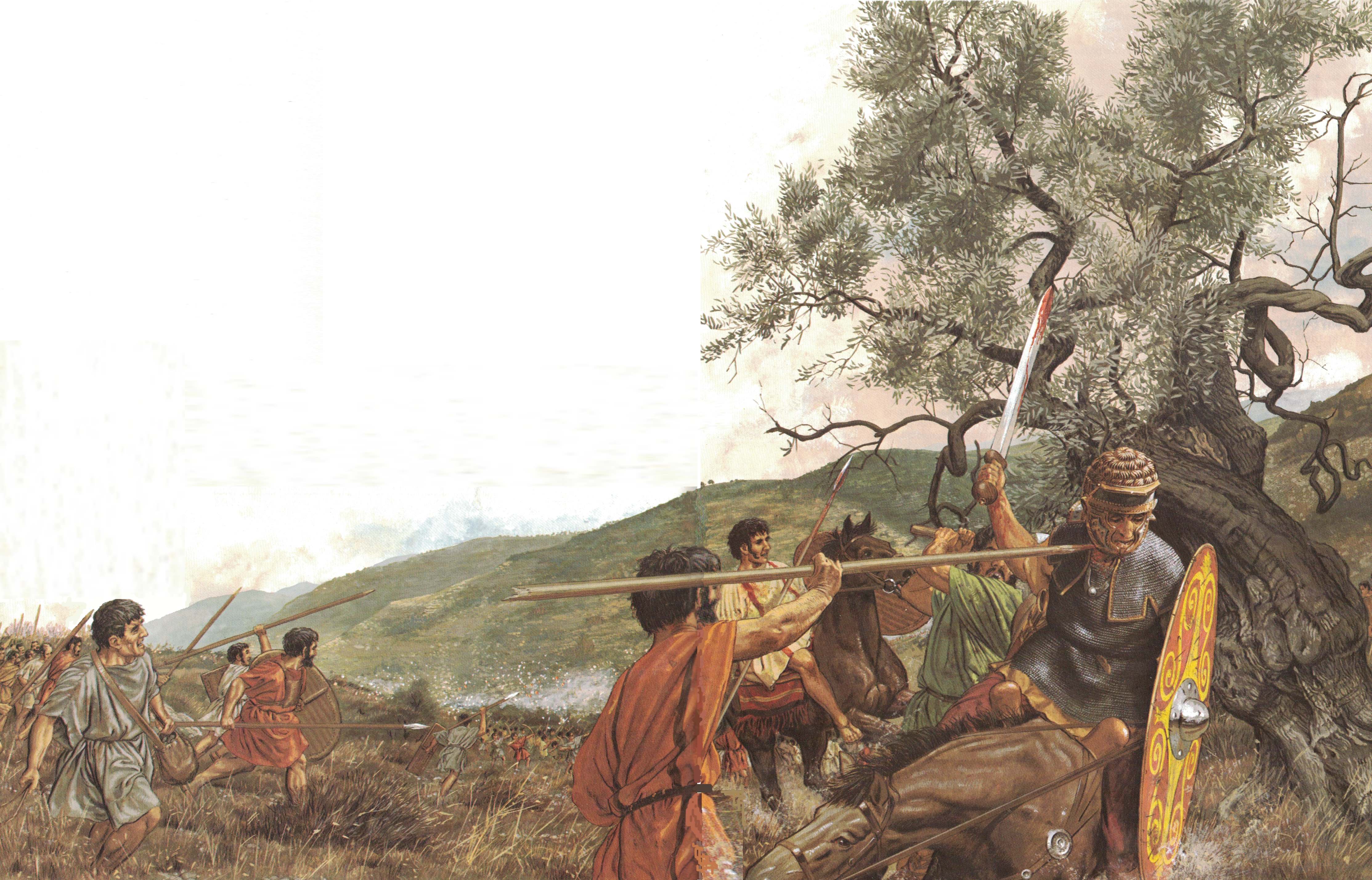 In a few of my past blogs, I gave a good introduction to the seething hatred of the Jews and Romans for each other. A brief history of the Jews before Christ's era will explain better how and why his audiences had the mindset they did.
Joseph Klausner is an author of a book I won't recommend, Jesus of Nazareth, His Life, Times, and Teaching. His views on Jesus himself reflects his Jewish scholarship background, meaning he doesn't believe Jesus was the Messiah. I will quote from this book only on Jewish history which he writes with great accuracy and detail.
The Maccabean Revolt was over in 160 BC. From Klausner,
It was through these Maccabeans…the borders of Judea were enlarged and "Philistia" became the "Land of Israel"…. all that the Maccabeans built up was destroyed by the Romans…. 65 B.C.E. …the beginning of the destruction…. the next 30 years…a series of long, sanguinary wars…
The troops of Judas Maccabeus and his brother Jonathan were the beginning of the "Sicarii" movement. This movement continued until Jerusalem was destroyed in 70 A.D. From Wikipedia, they
were a splinter group of the Jewish Zealots who…carried sicae, or small daggers, concealed in their cloaks. At public gatherings, they pulled out these daggers to attack Roman and Hebrew Roman sympathizers alike, blending into the crowd after the deed to escape detection.
From Klausner,
Such patriotic "terrorists" are always forthcoming when a nation's sufferings reach the highest pitch…feelings overcome their intelligence…accept martyrdom…hearts burning with…fire of national love…no clear plan of rebellion…. "heroism" they have…to spare, but "council" they have none…. "Let my soul die with the Philistines" …as they carry out…killing every stranger and…suspect they encounter…plundering and ravaging suspected villages and caravans to find means of maintenance.
In 65 B.C.E. the wars were first led by Herod the Great's father, Herod Antipater. They were
stirring up…political Messiahs…in 63 B.C.E. …death of 12,000 Jews… In 57 B.C.E. …lost 6,000 men… In 56…5,000 fell…1,000 more…no less than 10,000 fell…near Mount Tabor…carried 30,000 Jews into slavery (53-51 B.C.E.) …the real government was in Antipator's hands and he appointed his son Phasael Governor of Jerusalem…Herod Governor of Galilee…the people no longer possessed strong Maccabean leadership…formed themselves into guerilla bands…. After long, sanguinary wars…desperation sets in…a feeble, passive despair ending in abject slavery and a mute acceptance…and an active, bitter-minded despair…of those who have nothing to lose…capable of the utmost cruelty in their bitterness…in their excessive lust for revenge they did not always distinguish the innocent from the guilty.
Also included in the Jewish troops
were the "brigands" and "bandits" who, especially in Galilee…large numbers…Hezekiah the Galilean…and most of his band were killed…in Galilee…far removed from the political and religious center…far more suited than Judea for the nurturing of unruly, unbalanced zealots.
Since the Parthians attacked Syria and were a formidable force to Rome, the Jews enlisted their help to defeat Herod and Phasael.
Mattathias Antigonus was made king of Judea—the last king of pure Maccabean stock (40-37)…fierce war between him and Herod which ended in the latter being made king. Parthians and…[Herod] supported by the Romans, drenched the Land of Israel in blood and enfeebled it to an extreme…Parthians looted Jerusalem and its neighbourhood…Herod also plundered wherever he saw fit…. Herod…also began to kill…those "brigands" and "sicarii" …hidden…in the caves and mountains…an incalculable number of Jews were killed, especially in Galilee.
I'll cover Herod the Great in more detail next week. For now, I've laid a foundation to introduce even Mary's mindset, Christ's mother. In the West today, we're so far removed from war and often, even from extensive oppression. We don't usually notice in her "Magnificat" her confidence that their "messiah" would deliver them from Rome's oppression. Keep in mind Herod the Great was still alive and getting worse killing off many even in his family and all around him. In her adoration of God, she said,
He has shown strength with his arm; he has scattered the proud in the thoughts of their hearts; he has brought down the mighty from their thrones and exalted those of humble estate; he has filled the hungry with good things, and the rich he has sent away empty. He has helped his servant Israel, in remembrance of his mercy, as he spoke to our fathers, to Abraham and to his offspring forever.
The Messianic prophecies of the Old Testament always sound like there would be two Messiahs. There would be the suffering Messiah and the one that would deliver the Jews from their oppressors. They wanted to focus on their deliverance for a good reason. We have the advantage of hindsight that they didn't have. We must remember this when we differ over eschatology and other doctrines that aren't easily resolved.
The above picture was scanned from Living in the Time of Jesus of Nazareth