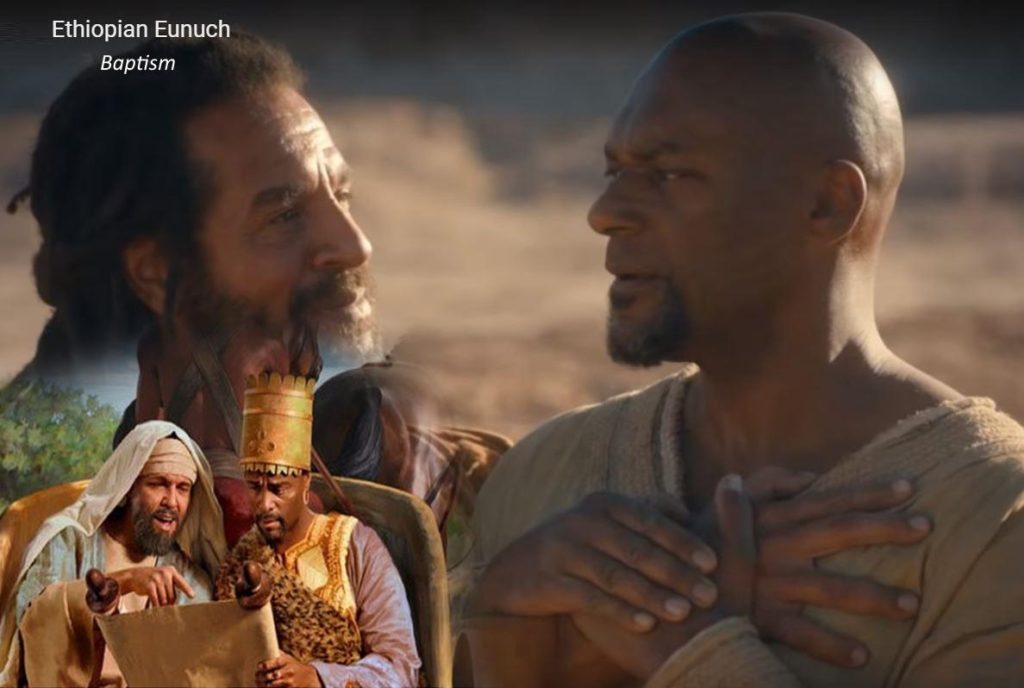 The Ethiopian Eunuch in Acts 8:26-39 was an outcast. Today's blog is about him, his hunger and his hope. This Ethiopian was a court official of Candace, queen of the Ethiopians. From Wikipedia,
"Candace" was the name given to all the female rulers or consorts of the Kingdom of Kush (now part of Sudan) in Greco-Roman historiography. It derives from a Meroitic word, kdke, that referred to any royal woman. "Ethiopian" was a Greek term for black people generally, often applied to Kush (which was well known to the Hebrews and often mentioned in the Hebrew Bible). The eunuch was not from the land today known as Ethiopia, which corresponds to the ancient Kingdom of Aksum, which conquered Kush in the fourth century. The first writer to call it Ethiopia was Philostorgius around 440."
In ancient times a eunuch was generally
castrated, typically early enough in his life for this change to have major hormonal consequences…. Castration was typically carried out on the soon-to-be eunuch without his consent…that he might perform a specific social function. The earliest records for intentional castration…in the 21st century BC. Over the millennia since, they…performed a wide variety of functions…courtiers or equivalent domestics, treble singers, religious specialists, soldiers, royal guards, government officials, and guardians of women or harem servants.

Eunuchs would usually be…castrated…to make them reliable…where physical access to the ruler could wield great influence. Seemingly lowly domestic functions—such as making the ruler's bed, bathing him, cutting his hair, carrying him in his litter, or even relaying messages—could in theory give a eunuch "the ruler's ear" and impart de facto power on the formally humble but trusted servant….


Eunuchs supposedly did not…have loyalties to the military, the aristocracy, or to a family of their own (having neither offspring nor in-laws…) …seen as more trustworthy and less interested in establishing a private 'dynasty'. Because their condition usually lowered their social status, they could also be easily replaced or killed without repercussion. In cultures that had both harems and eunuchs, eunuchs were sometimes used as harem servants…
Temple priests had to be free of any physical deformities or mutilations (Leviticus 21:18). In fact, Gentiles weren't allowed in the temple area, although they should've been at least allowed to offer sacrifices (Numbers 15:14-16). Since in Acts 8 the Ethiopian was reading Isaiah, I suspect he was drawn to the whole book because of Isaiah 56:3-7:
Let no foreigner who is bound to the Lord say, "The Lord will surely exclude me from his people." And let no eunuch complain, "I am only a dry tree." For this is what the Lord says:

"To the eunuchs who keep my Sabbaths, who choose what pleases me and hold fast to my covenant—to them I will give within my temple and its walls a memorial and a name better than sons and daughters; I will give them an everlasting name that will endure forever. And foreigners who bind themselves to the Lord to minister to him, to love the name of the Lord, and to be his servants, all who keep the Sabbath without desecrating it and who hold fast to my covenant—these I will bring to my holy mountain and give them joy in my house of prayer. Their burnt offerings and sacrifices will be accepted on my altar; for my house will be called a house of prayer for all nations."
Why did Isaiah 53:7-8 puzzle the Ethiopian Eunuch? I think because he identified with being cut off from personal rights, freedom, and descendants:
He was oppressed and afflicted, yet he did not open his mouth; he was led like a lamb to the slaughter, and as a sheep before its shearers is silent, so he did not open his mouth. By oppression and judgment he was taken away. Yet who of his generation protested? For he was cut off from the land of the living; for the transgression of my people, he was punished.
The Eunuch asked if the prophet was speaking of himself or someone else. For those of us that weren't saved as young kids, we know how getting saved changes everything. Christmas carols take on a whole new meaning, don't they? Let's revive our sense of newness and identity with Christ.
The above pictures were scanned from Transascity.org and Wn.com