Click picture to enlarge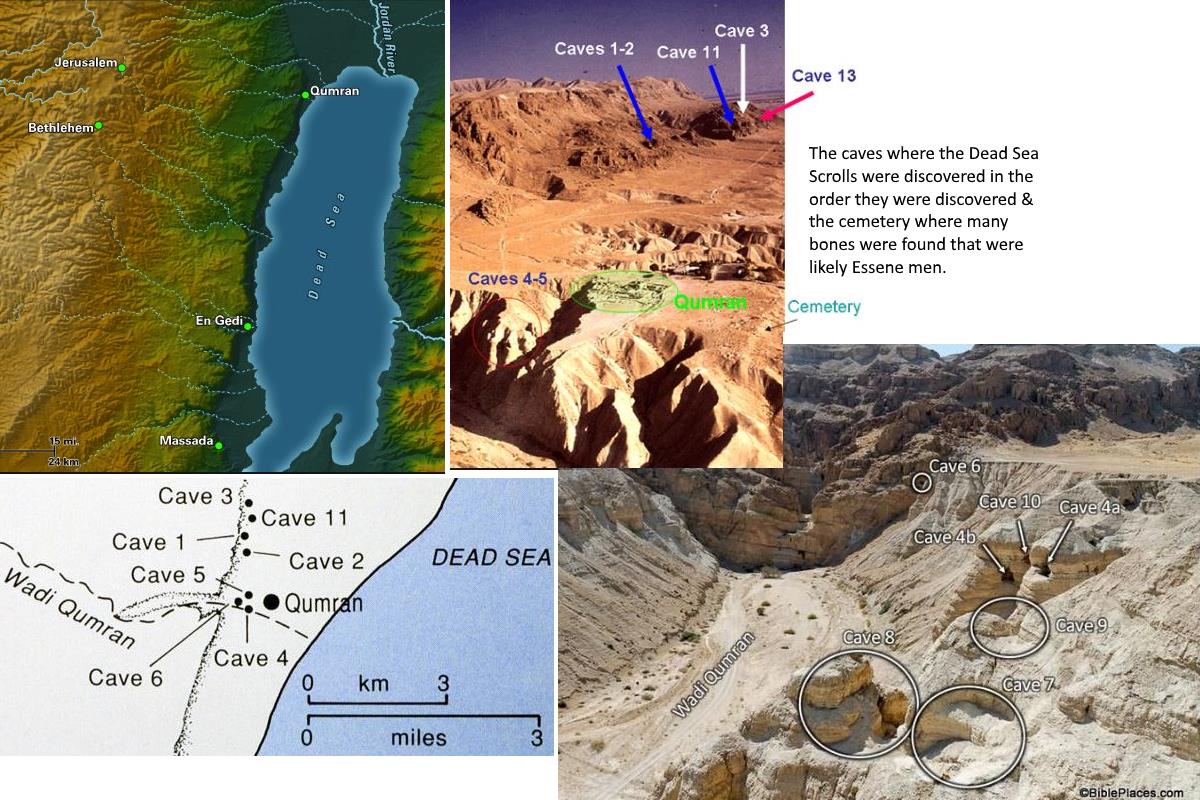 Last week I endeavored to give quotations for you to glimpse the challenges in determining who wrote the Dead Sea Scrolls (DSS). This week I'll give quotations to help you form a little of your own opinion regarding who wrote the scrolls. Josephus and Philo gave us most of what we know about the Essenes outside of the DSS. But there were two pagan writers from ancient times that were perhaps the third-most convincing to me that it was Essenes at Qumran.
PLINY THE ELDER
…that non-Jewish writers mentioned the Essenes demonstrates that this group's presence was substantial enough to merit attention on a broader scale…. One of these writers was a Roman aristocrat known as Pliny the Elder or Gaius Plinius Secundus (AD 23-79). Pliny was the uncle of Pliny the Younger, who is famous for having written a brief report about early Christians living in…Bithynia. Pliny the Elder was a military man, a Roman equestrian…author of the 37-book Naturalis Historia, an encyclopedic anthology of all-natural subjects studied in late antiquity…. Writing sometime in the late 70s, Pliny says: "On the west side of the Dead Sea, but out of range of the noxious (waters) of the coast, is the solitary tribe of the Essenes, which is remarkable beyond all the other tribes in the whole world, as it has no women and has renounced all sexual desire, has no money, and has only palm trees for company. Day by day the throng of refugees is recruited…by…persons tired of life and driven there by the waves of fortune to adopt their manners. Thus…a race in which no one is born lives on forever…. Lying below the Essenes was formerly the town of Engedi…."

The Dead Sea Scrolls
ABOUT JOHN THE BAPTIST
I wrote in 2 blogs why scholars theorize John the Baptist was likely involved with the Essenes for a while. I must add I think John's dad (Zechariah), being a priest, must've influenced John to want to be with the Essenes. Zechariah continually faced the oppressive corruption of the ruling priests in Jerusalem. Also, if Zechariah died while John the Baptist was still quite young, Essenes were known to adopt orphans to gain more recruits.
DIO CHRYSOSTOM
A Greek writer who knew of the Essenes was Dio Chrysostom (d. circa AD 120). He is not to be confused with church father John Chrysostom. Dio was a rhetorician, orator, Stoic philosopher, and author of numerous speeches compiled as Discourses. According to his biographer, Synesius, Dio "praises the Essenes, a very blessed city lying beside the Dead Water in the interior of Palestine, in the same location of Sodom" (Synesius, Vita Dionis 3.2). Dio's reference to the "blessed city" is a bit odd, but his geographical references…are accurate.
WHY DOESN'T THE NEW TESTAMENT MENTION THE ESSENES?
Does it seem odd to you that the NT doesn't even mention the Essenes? When Pharisees, Sadducees, Herodians, and Zealots are? It doesn't seem odd to me, after considerable study and thought. But again, all my reasons seem rather daunting to me to try to cover in a short/sweet blog.
I can sum it up with this, though. When there's misguided zeal there's pride, and when there's pride there's usually an unteachable spirit. Jesus recruited his disciples from a zealot, fishermen, peasants and rejects such as a tax collector. God does draw to himself recruits from the oddest backgrounds sometimes, such as Paul (a Pharisee), Luke (a doctor), and Simon (a tanner). In fact, the greatest surprise at that time was that God would eventually draw to himself Gentiles! But where there's religion—especially ardent and well-defined religious laws and beliefs—there's usually stagnation too crippling to recruit teachable disciples from.
Have you noticed that's how churches usually rot away eventually? They usually start with losing their first love and then get overly set in their ways. Are you part of that problem in your church?
The above pictures were scanned from Dead Sea map, DSS caves map, DSS caves picture, DSS caves picture-1