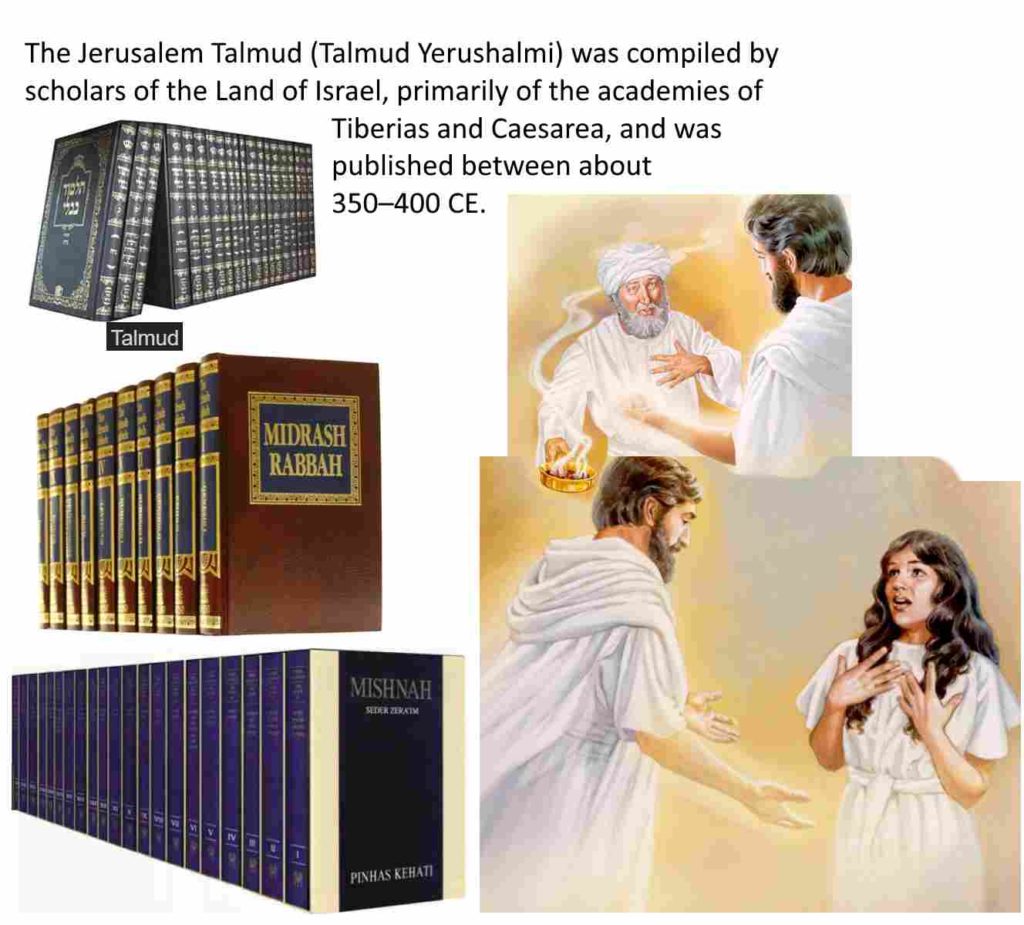 You know how difficult it is to sort a lot of truth from a little fiction. First-century Jews still didn't have completely resolved yet what was their inspired scriptures. However, this is a controversial issue among modern scholars. It does seem, though, that first-century Jews still relied heavily on visions and messages from angels to know what was true.
This means they would've considered Pseudepigrapha and Apocrypha as their "sacred writings" too. Worse yet, as we'll soon see, they'd also regard highly what we now find in their Talmudim, Midrash, etc. (although these were written later).
ABOUT THEIR BELIEFS
Alfred Edersheim did a fantastic study on angels. Edersheim wrote:
It is…not asserted that all these grossly materialistic superstitions and profane views were entertained in Palestine, or at the time of our Lord, still less that they are shared by educated Jews in the West. But they certainly date from Talmudic times; they embody the only teaching of Rabbinic writings about the Angels which we possess, and hence…their roots must be traced back to far earlier times than those when they were propounded in Rabbinic Academies…

From The Life and Times of Jesus the Messiah
WHERE DID THE TALMUD COME FROM?
The Pharisees preserved the Pharisaical oral law in the…Talmud. They would become the foundation of Rabbinic Judaism. The sages of the Talmud see a direct link between themselves and the Pharisees, and historians generally consider Pharisaic Judaism to be the progenitor of Rabbinic Judaism…

From Wikipedia
A GENERAL DESCRIPTION OF THESE ANCIENT BELIEFS
Edersheim wrote that these beliefs include a "considerable progression" as "we advance" from "the latest Canonical" (i.e. the Bible) to
Apocryphal, and again from these to the Pseudepigraphic Writings. The same remark applies even more strongly to a comparison of the latter with Rabbinic literature. There we have comparatively little of the Biblical in its purity. But, added to it, we now find much that is the outcome of Eastern or of prurient imagination, of national conceit, of ignorant superstition, and of foreign, especially Persian elements. In this latter respect…much of its Rabbinic elaboration…were brought from Babylon.

From The Life and Times of Jesus the Messiah
QUOTING EDERSHEIM ON ANGELS
I'll give you a "Reader's Digest" version of the 11,000 words Edersheim wrote about angels. Next week I'll summarize about Satan and demons. Here I'll focus on the more believable things Edersheim reports than on the fanciful, corrupt, and offensive (most of the latter Edersheim cuts out himself, anyway).
…vast unnumbered "Host" generally designated as "the Ministering Angels"…every day Ministering Angels are created…after which they pass away…. sometimes every power and phenomenon in nature is hypostatized into an angel…such as hail, rain, wind, sea…. "there is not a stalk of grass upon earth but it has its angel in heaven." This seems to approximate the views of Alexandrian Mysticism. So also, perhaps, the idea that certain Biblical heroes became after death angels…any limitation, as to duration or otherwise, of the Ministering Angels does not apply either to the Ophanim (or wheel-angels), the Seraphim, the Chayoth (or living creatures), nor to the Angel-Princes….

The Ministering Angels…may be divided…praising God, and…executing his behests…. The 70 nations, of which the world is composed, had each their Angel-Prince…who plead their cause with God. Hence these Angels are really hostile to Israel, and may be regarded as not quite good Angels, and are cast down when the nationality which they represent is destroyed…. Of these 5 are specially mentioned, of whom 4 surround the Throne of God: Michael, Gabriel, Rephael, and Uriel.

But the greatest of all is Metatron, who is under the Throne, and before it…. we read of 3 directions given…to preserve the Rabbis from the…company of Evil Angels…. Metatron…is the representative of God…when an apostate Rabbi had seen Metatron…would have inferred from it that there were 2 supreme powers, Metatron received from another angel 60 fiery stripes…to prove his inferiority!

…Michael…or the Great Prince…stands at the right hand of the throne of God…saved Lot…. Gabriel represents…judgment, while Michael…mercy. Thus [Gabriel] destroys Sodom…smote the army of Sennacherib….

profane…is the notion that Angels might be employed for magical purposes….

From The Life and Times of Jesus the Messiah
EFFECT OF THESE BELIEFS IN A FEW BIBLICAL PASSAGES
In John 5:1-7 we don't usually think about how different this story is from society today. I mean, that a bunch of blind, lame, and paralyzed people could hope to be miraculously healed by being first to dip into water [that an angel, KJV] "stirred up." We also don't usually think about what sort-of powers would allow others besides Jesus to heal when Jesus said, "And if I drive out demons by Beelzebul, by whom do your sons cast them out? Therefore they will be your judges" (Matthew 12:27). But these texts speak of the highly superstitious and paranormal leanings for that era and people.
Have you ever noticed it seems that the more superstitious people are, and the more fascinated by paranormal events, the more people experience such? History repeats itself. Only God knows how much of it is due to the distractions of demons, etc. But what we set our hearts on makes a big difference.
Note the Jews' beliefs about Gabriel. This angel was the one to deliver the message to Zacharias about John the Baptist, and to Mary about Jesus. Remember how scared Zacharias, Mary, and especially the shepherds were at first? Gabriel the angel of judgment was bringing news of mercy.
God knows where we're at and what we need to be convinced of whatever truths he has for us.
The above pictures are scanned from
Talmud
,
Midrash
,
Mishnah
,
Gabriel with Zachariah
and
Gabriel with Mary